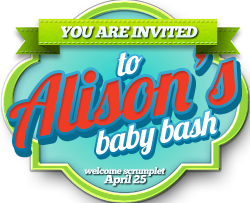 I'm so excited to be linking up with the Ado at The Momalog for Alison's Baby Bash – Congratulations Alison!!!
Our prompt: Write a post with your favorite baby photo telling us why it's your favorite, and include your favorite quote about motherhood.
This was taken at the hospital the day my son was born. I was so taken with how beautiful and perfect he was (is).
When I was pregnant, I'd look at my ultrasound pictures and try to imagine what he would look like. What it would feel like to hold him, what his voice would sound like and what he himself would be like.
Are there even words to describe seeing your baby for the first time? Holding them? Taking in that new baby smell and looking in to their eyes for the first time?
It is pure love, there are no other words.

After a difficult pregnancy and fairly easy delivery, I can't describe how happy and excited I was the day my son was born.
This was my husband's first child. When we'd visit friends, I was all about holding and cuddling people's babies but he seemed uncomfortable and never wanted to hold them.
As soon as our son was born, my husband wouldn't put him down. I cannot tell you how much this made my heart sing.
A year of two before I met my husband, I'd basically given up on having more children or finding a great man, being in a happy relationship or ever getting married again.
This picture reminds me that good things are possible. Love is possible. This beautiful baby boy was my impossible miracle.
"Making the decision to have a child is momentous. It is to decide forever to have your heart go walking around outside your body." ~Elizabeth Stone