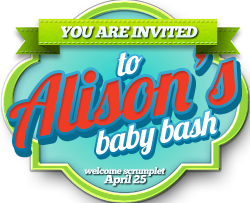 This is post #2 for the virtual Baby Bash for Alison from Mama Wants This! Linking up with one of our hosts, Stasha at Northwest Mommy, with my favorite baby shower gifts from Pinterest for Alison!
I love shopping for baby shower gifts and usually go way overboard and over budget, then stand with a cart full of soft, beautiful things and agonize what to keep and what to put back.
But getting to pick out shower gifts on Pinterest – Perfect!
Dear Alison,
These are a few things I picked out for you. Things I wanted and felt were really important when I was pregnant, soft things for the sweet, new baby and a few things I just thought were really fun.
I even created a new board called baby shower gifts and "shopped" with abandon.
Hope you enjoy your virtual shower today with all your online friends and mamas, we are all wishing you the best!
Now – on to the goods!
Continue reading →